Things have really grown here in the four years since the inception of this club. My last official album 'All That Heaven Allows', which club members helped to fund, was finished and released! Of course, a copy is included with any new membership, as will be the next new album which is currently in the works.

Join now and you'll get well over five full albums worth of music and spoken-word stories with musical accompaniment right away. Much of it is exclusive, with another album's worth within the year ahead and so much more to come.

Joining this club is the best and most personal way you can help me keep doing what I do, and have an insider view and share in the process. I'm exploring some ideas that wont wind up fitting so comfortably within the traditional album context, and this is the perfect avenue to share that content with you.

My intention has been to roll together the best elements of the various crowd-funding platforms out there into this one so that everyone that's part of it gets a great, ongoing experience.

Some of the things you'll get if you join the Full Moon Music Club:

• FULL MOON SURPRISE!
A bit like my Monthly Journal album project, but from SPACE! Every month on or around the full moon something special will be delivered via the members-only feed. Usually this will be new exclusive songs. When I launched the club, an atmospheric string of pieces (often though not always instrumental) gradually came to life that often involved a lunar/space-travel related theme. These tracks in sequence are a special journey I've since dubbed 'Moon Rocks'. Then for a while the 'surprises' became installments of an ongoing spoken word story (with musical and sound-effect accompaniment) told from the perspective a tree in Wowtown that befriends a young girl. Another multi-episode story involves a down-on-his-luck mind-reading magician/praying mantis named Daddy'O. What's next? Well, part of the charm of the Full Moon tracks is that I may be as surprised as you are about what comes next.

• WHAT'S HE BUILDING IN THERE?
I've got some exciting new ideas for some instruments and contraptions. These often become something completely different in the end. Join me in the lab/workshop for an insider view on the journey.

• A MEMBERS-ONLY EP
A 4 song EP exclusively for members of this club called 'Of Stars, Snakes and Ladders' will be yours as soon as you sign up. If you sign up on the 'physical' tier, you'll get a CD copy delivered to your home.

• A GOOD FEELING
Knowing you're helping to support one of the hardest working independent artists you know, so that he can keep thinking and creating 'outside the box.' And his deep gratitude for your help.

I couldn't do what I do without the support of people like yourself, thank you so much!

Join:
For £24/year, you get everything above.

You're a subscriber

Thank you!

For £32/year, you get everything above, plus:

The DELUXE PHYSICAL Tier package (CD or VINYL)
You'll get a 'hard' copy of my new album 'All That Heaven Allows' with beautiful cover art and all the frills (signed if you'd like). You'll also get a CD copy of the Stars, Snakes & Ladders EP, and some bonus hard-copy future versions of additional Full Moon material as it accumulates.

You're a subscriber

Thank you!

For £90/year, you get everything above, plus:

The SUPER DELUXE Tier package
Wow! You are a patron saint! This is extra special, and you're going to get an extra special thing or two during the year ahead. I'm not even sure what it's going to be yet, but I have a pretty good idea that you will be SO pleased!

You're a subscriber

Thank you!
* Downloads are DRM-free and available in MP3, FLAC and
more
.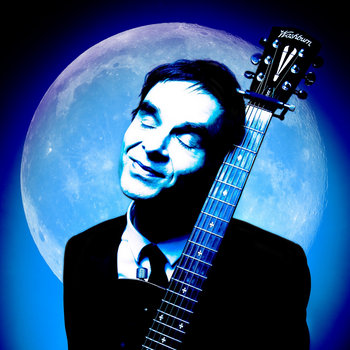 Thomas Truax
London, UK
"Thomas Truax crafts rich, poetically evocative songs about insects, trees, technology, and a lifelong obsession with all things lunar. He travels the world performing with his "band" of bizarre self-made instruments including a motorized drum machine made with bike wheels and a souped-up Gramophone called 'The Hornicator', as well as his venerable guitar 'Hank'.
"Inventive and Romantic" -TimeOut